WHO IS PLAY WITH FIRE IMPROV?
It's me! Cameron. This is where I put you at ease that you're in good hands.
I used to be anxious. All the time. It affected everything from my ability to present scripts as a copywriter in advertising, all the way to my ability to leave the house without panicking. It was who I thought I was, and always would be. Then improv changed my life.
Now I use improv to help corporate clients, groups, and hundreds of individuals connect and bond with others, make bold creative choices, and find the courage to be their best selves.
Cam Algie
• Professor of Play at Play with Fire Improv
• Instructor, and Founder of the Improv for Anxiety program at Second City Toronto
• Professor of Presentation Skills at Seneca College
• Improviser for over 12 years, studying and performing across North America
• Advertising copywriter for 12 years
• Former anxious person (over 30 years' experience)
"That is people breaking isolation, coming out, seeking something out, being present, and enjoying their life.
It's a wonderful thing to see."
- Joe Rich, Social Worker and Family Therapist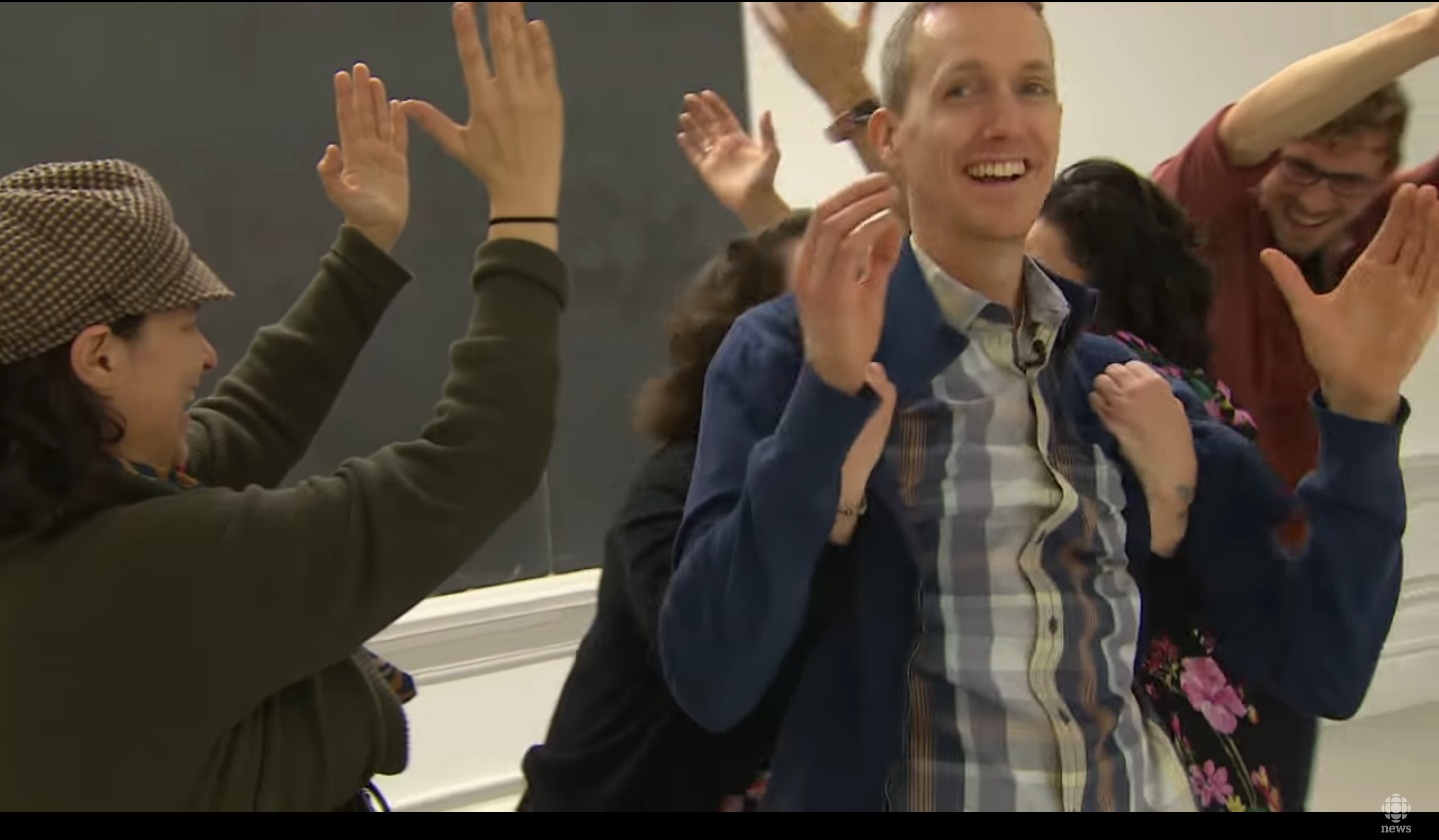 "I had really severe social anxiety and before I started the improv I was actually not leaving my house very much, this gave me something to look forward to."
– Rebecca Leenhouts
"In this episode I talk to Cameron Algie on how he used improv to overcome his anxiety. And how he now helps others to do the same through comedy and performance." – Tim JP Collins
"This interview is one of my favorites – especially our two-person scene. I learned a lot from Cameron and I know you will too!" – Margot Escott, MSW, LCSW
"Every once in a while, it's important to breathe, and laugh, and connect with people."
The Pop Life panel, Rosey Edeh, Cameron Algie and Lia Grimanis speak about their own reinvention journey, the different paths they took and challenges they faced.
"Nerves can be crippling. And I know it was nerves that kept me from going into comedy full time until a couple of years ago." – Carla Collins
"And for me the biggest power of improv was taking a break from the struggle."
"I felt I had to be perfect all the time. To constantly be better than I was yesterday and always growing and improving. It was a lot of pressure. I hated it. I hated life. Improv showed me mistakes were okay."
BENEFITS OF IMPROV FOR MENTAL HEALTH
A 2014 government survey showed that an estimated 3 million Canadians (18+) reported they had a mood and/or anxiety disorder. And those numbers are probably low. When you factor in the stigma of mental health issues, the fact that almost half of people say they've never gone to see a doctor about their issues, most people end up suffering alone before admitting what would be perceived as a "weakness."
While few scientific studies exist, improv and play have been shown to help:
Relieve stress and anxiety

Stimulate brain function and boost creativity

Improve relationships and your connection with others

Enhance your ability to take risks and try new things

Relax the body and keep you energized

Release endorphins (making you feel good) and boost the immune system
It changed my life (read my story here). And I've personally seen it change the lives of others. Improv is like going to therapy, and having fun at the same time.
Laughter truly is the best medicine.
Play with Fire Improv is located in Toronto, Ontario, Canada.